Along with the peak of pine pollen, the spring homebuying season is here!
Mortgage rates have gone up, but they're still lower than the historic norm. The fear of future higher mortgage rates and higher prices have increased buyer urgency. While higher mortgage rates are pricing out some buyers, Bank of America says it won't be enough to stop the housing market from posting strong home price growth this year.
Bank of America predicts that U.S. home prices will finish 2022 up 10%. That's nearly double the average annual home price growth (4.6%) posted since 1989. However, it would be a bit of a deceleration: Between December 2020 and December 2021, the Case-Shiller U.S. National Home Price Index—the leading measurement of U.S. home prices—jumped 18.8%.
Homebuyers at nearly every price point are likely to face a competitive battle, but it shouldn't resemble anything like 2021. Every single forecast model reviewed by Fortune in November 2021 predicted that home price growth would decelerate significantly in 2022. But we've already seen that consensus break apart. 
Are We In a Housing Bubble?
No. Housing supply inventory is slowly increasing, but not at a pace to accomodate the current demand. In other words, it's there are few homes to choose from, a continued high demand, and historicly low mortgage rates. This combinatoin favor a market leveling out to "normalcy" and highly unlikely to crash.
Rising household incomes, favorable demographics, and "shifting preferences due to remote work" should also put upward pressure on price growth, writes Bank of America. That demand corelates to low production on the supply side of the market—which is still hovering around four-decade lows for housing inventory. 
The median home price in Wake County as of April 2022 is $410,000.
While it may be tempting to blame the pandemic for the current inventory shortage, the pandemic can't take all the credit. While it did cause some sellers hold off on listing their houses in 2020 and 2021, the truth is the low supply of homes was years in the making.
Where Did the Shortage Come From?
It's not just today's high buyer demand. Low supply goes hand-in-hand with the number of new homes built over the past decades. According to Sam Khater, VP and Chief Economist at Freddie Mac:
"The main driver of the housing shortfall has been the long-term decline in the construction of single-family homes."
Data in a report from the National Association of Realtors (NAR) tells the same story. New home construction has been lagging behind the norm for some time. Historically, builders completed an average of 1.5 million new housing units per year. However, since the housing bubble in 2008, the level of new home construction has fallen off (see graph below):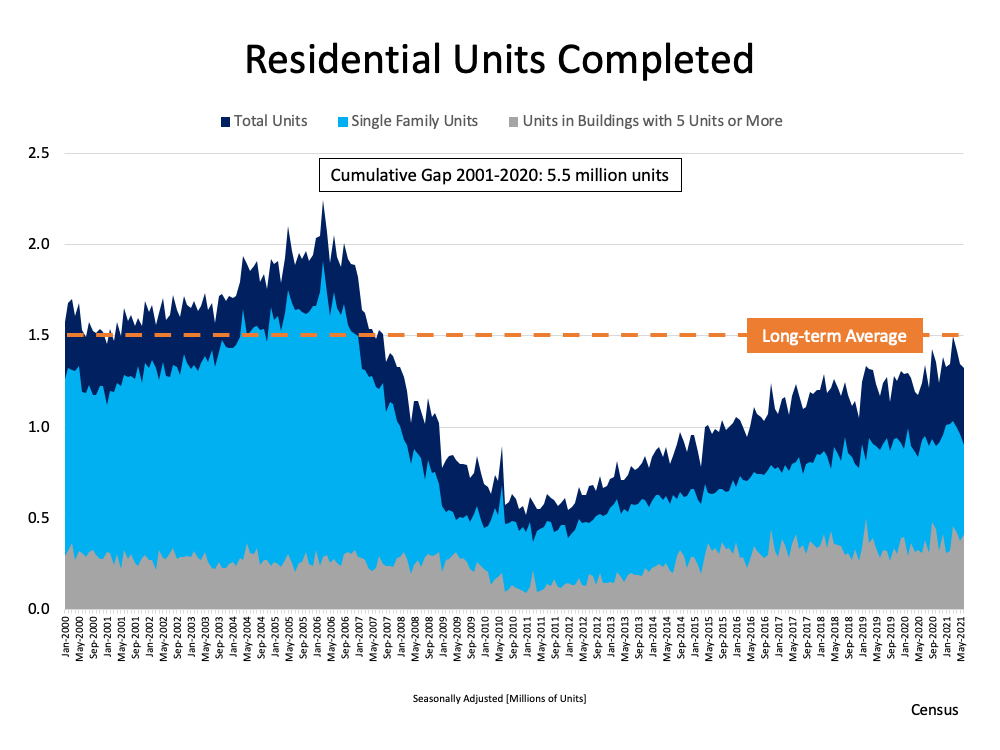 The same NAR report elaborates on the impact of this below-average pace of construction:
". . . the underbuilding gap in the U.S. totaled more than 5.5 million housing units in the last 20 years." 

"Looking ahead, in order to fill an underbuilding gap of approximately 5.5 million housing units during the next 10 years, while accounting for historical growth, new construction would need to accelerate to a pace that is well above the current trend, to more than 2 million housing units per year. . . ."
We're already starting to see an increase in new home construction, which is great news. But newly built homes can't bridge the supply gap we're facing right now on their own. In the State of the Nation's Housing 2021 Report, the Joint Center for Housing Studies of Harvard University (JCHS) says:
"…Although part of the answer to the nation's housing shortage, new construction can only do so much to ease short-term supply constraints. To meet today's strong demand, more existing single-family homes must come on the market."
Early Indicators Show More Existing-Home Inventory Is on Its Way
When we look at existing homes, the latest reports signal that housing supply is growing gradually month-over-month.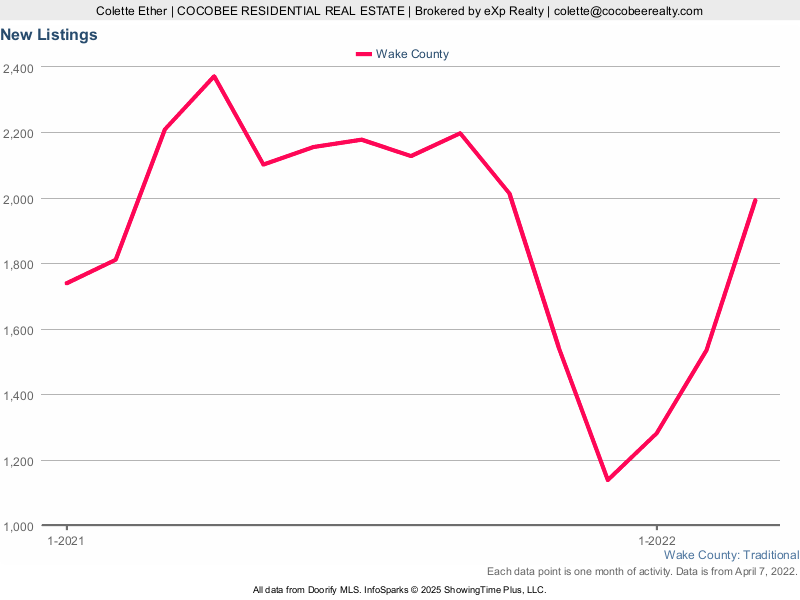 So, what does all of this mean for you? 
Just because life is starting to return to normal, it doesn't mean you missed out on the best time to sell. It's not too late to take advantage of today's sellers' market and use rising equity and low interest rates to make your next move.
Bottom Line
Even though the experts we talked with don't anticipate any sudden price drops, the current expectation for the future is for price growth to continue–but at a slower pace than they have been recently.
If last year taught us anything, it's the value of being prepared for the unexpected. Whether or not you decide to make a home purchase now or years from now, it needs to make sense for you.
As for sellers, the market needs more existing homes for resale to help level things out. That way when you sell you can also afford to level up!